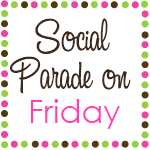 this is the first time I am participating in the "social parade" I always see people post about The social parade every friday, but have yet to do it myself... so here goes its time for a SOCIAL PARADE!
this week has been BEAUTIFUL out... so we have taken full advantage of the gorgouse weather here in charleston with daily picnics in our backyard... here are a few of my favorite photos from the week...
playin in my jumper while mom and dad clean out the garage
love these sweet little piggies
thanks Dad for these lashes
watching my "siblings" play
lovin on my sweet sister lola
playing with mom
extreme close up
I am excited for my weekend...
Friday I will be having a fun evening with my hubs and my little girl
Saturday we are going to Cypress Gardens to have a picnic with 2 other couples that are friends of ours :)
Sunday I am going to meet my new sweet little niece that just arrived! I cannot wait to see her :)
hoopla hoopla for a social parade!